Guest Nails! ( Shaina-Minty from Haute Lacquer)
Hi!
It's friday so you all know what that means right? Today (Shaina) Minty from from
Haute Lacque
r prepared something really beautiful and special for us =).
Let's look at her post she prepared:
Hi everyone! First I want to thank Dolores for inviting me to do this post! I am so flattered and excited to be writing on this blog.
I was so indecisive about what to do with this post. I thought of so many different things and even drew some nail art ideas. But then I lost the sheet and just grabbed some tape and scissors and just went at it! I love tape manicures because they are so easy to do and work with.
After several attempts and color combinations, this is what I came up with.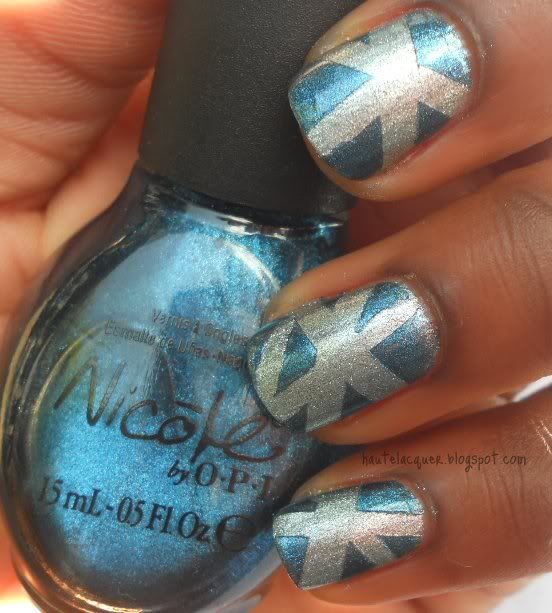 For this manicure I used S-he 471 as the light blue/silver metallic base. I let it completely dry before I cut out thin strips of regular scotch tape and placed it on my nails, overlapping each piece of tape I put down. Then I applied a medium blue metallic, Nicole by OPI Party in the Penthouse, over the entire nail. I carefully removed the tape, making sure to remove the pieces I laid on top first. Finish off with a topcoat and you're done!
I hope you all enjoyed my post, I am so happy to have written it! Thank you again Dolores.
Isn't it gougers? I'm definitely making a scotch tape manicure soon =).
Shaina, thank you for this awesome post and pictures =)
Would you like to participate in guest nails? Just write me mail on dolores dot zimerl at gmail dot com.